Summer course




Systematics of Beetles
Where:

Prague, Czech Republic
Faculty of Environmental Sciences,
Czech University of Life Sciences Prague

When:

July 8-21, 2018

Application deadline:

March 15, 2018
Basic Information
Systematics of Beetles is a summer course (6 ECTS) open to advanced MSc. and Ph.D. students interested in beetle systematics, natural history and evolution.
The course will focus on systematics of extant beetles (Coleoptera), with lectures and laboratories treating the classification, morphology of adults and larvae, and classification of all families.
The course is limited to 25 students.
Why apply? The course is a unique opportunity for students to engage with leading world beetle systematists, appreciate the full spectrum of the world's beetle diversity, and interact with other students keen on beetle research. A seminar session for students will be held at the beginning of the course, to allow students to introduce their research.


Lecturers:
Richard Leschen
Maanaki Whenua Landcare Research,
Auckland

Hermes Escalona
Zoological Research Museum A. Koenig, Bonn
Course Assistants:
Martin Fikacek
National Museum, Prague

Michael Geiser
Natural History Museum, London

Matthew Gimmel
Santa Barbara Museum of Natural History, Santa Barbara

Jiri Hajek
National Museum, Prague

Jan Ruzicka
Czech University of Life Sciences, Prague

Petr Svacha
Institute of Entomology, Ceske Budejovice
Course programme
Day 1: July 8, Sunday

Arrival of students in afternoon, welcome meeting. Course overview, handouts, and brief introduction of faculty.

Day 2: July 9, Monday

Mini-conference: Presentations by students covering research in systematics, evolution, and taxonomy
(10 minute talks and 2 minute discussions)


Day 3: July 10, Tuesday
Adult Lectures and laboratory: (1) morphology and phylogeny; (2) suborders; (3) Archostemata, Myxophaga, & Adephaga
Day 4: July 11, Wednesday

(4) Scirtoidea, Derodontoidea, Hydrophiloidea, Staphylinoidea; (5) Scarabaeioidea, Dascilloidea, Buprestoidea & Byrrhoidea

Day 5: July 12, Thursday

(6) Elateroidea; (7) Bostrichoidea & Coccinelloidea

Day 6: July 13, Friday

(8) Tenebrionoidea part I; (9) Tenebrionoidea part II

Day 7: July 14, Saturday

(10) Cleroidea; (11) Cucujoidea

Day 8: July 15, Sunday

(12) Chrysomeloidea; (13) Curculionoidea

Day 9: July 16, Monday

Open laboratory/Free day

Day 10: July 17, Tuesday
Larvae: Lecture on morphology; electronic key; larval laboratory - Archostemata, Myxophaga, Adephaga
Day 11: July 18, Wednesday

Laboratory - lower Polyphaga

Day 12: July 19, Thursday

Laboratory - Cucujiformia

Day 13: July 20, Friday

Open laboratory/end of workshop party

Day 14: July 21, Saturday

Official end of course and departures
Application, fees etc.
How to apply?
Application deadline: March 15, 2018
Course fee
The course fee is 250 euro and needs to be paid prior to the course - costs will cover accommodation and meals. Other expenses needed won't be covered.
Up-to-date information
Up-dates will be available on this page and via e-mail to the applicants.
Questions?

In case of any questions, please contact Jan Ruzicka (ruzickajan@fzp.czu.cz)



Course flyer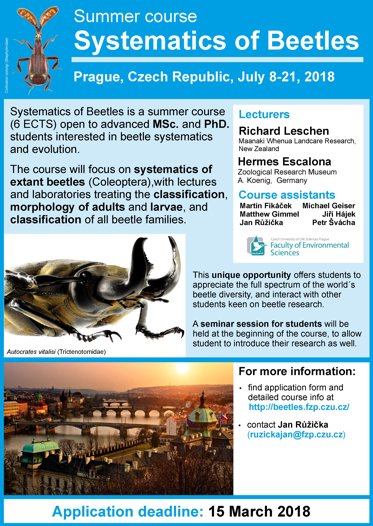 Click on the flyer preview to download the PDF of the flyer
(download the file and see it in Acrobat Reader, as it makes troubles when viewed directly in the browser).
Organizing and supporting institutions
Organizing institution:

Scientific support provided by:

Sponzors: